Yearning: A Gay Story
The game is out!
This has been in the works for nearly two years, but the game is now officially released, and I'm happy to finally be able to share it with everyone.
YAGS is, at some level, a stylized version of my coming out story, complete with all of the fear, doubts, and what-ifs I had in that process. It is also a story about friendship and acceptance, the joy of finding someone you can connect with, and ultimately finding yourself.
One of my goals was also to create a world that was more realistic: Not everyone you meet is gay (and it's kind of up to you to find out), the people you meet have lives and interactions outside of you, and your relationship with someone (if that happens) grows over time. As such, YAGS is a rather long game, so please make liberal use of the save functionality.
I hope I've managed to create something that is entirely distinct and stands on its own, but that is also enjoyable and relateable to play.
Feel free contact me with any questions or comments. I can be reached on twitter as bobcgames, via my website bobcgames.com, or via comments on this post or the game page.

And thank you for your interest!
---
Uncensoring
The downloadable version of YAGS is censored by default: There is no explicit nudity, and sex scenes are more abbreviated.
However, if you're of legal age in your area and do not mind seeing adult material, you can download a free patch that will make nudity toggleable within the game.
Simply go to http://yags.bobcgames.com/?patch and follow the instructions there to patch your game.
---
Why Free?
I've received a few questions about why this game is free to download. I am in the fortunate position of not relying on gamedev for income, and I didn't want money to be a barrier for anyone wanting to play the game.
However, if you enjoy what you see, and both can afford to and want to support my future game development efforts, please consider a small donation. There are a number of extras you can receive, in return.
---
Where are the CGs?
YAGS was always intended to be a free game, so I did not budget for or plan to include CGs in the game. As such, the intimate scenes fade to black... this is not a bug.
The game did end up with five ending CGs, one per "good" ending, that can be viewed again from the appropriate character's profile once unlocked.
---
What kind of stuff is available?
The digital goods are covered in fairly good detail on the main game page, but I wanted to include some examples of the limited physical goods you can receive.
Promotional Stickers are available in all of the physical good tiers, and feature Adam, James, and Jake. Donation Rewards can include either one random sticker, or the full set of all three.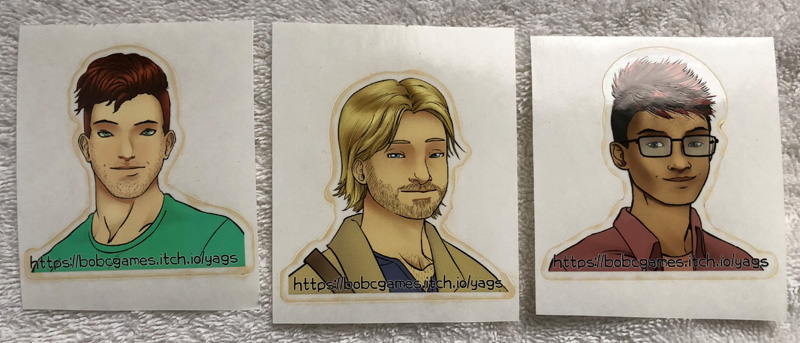 "Paper Doll" Stickers are a sheet of stickers featuring either Adam, Carlos, or Dan in their underwear, with stickers for their various clothing. Donation Rewards can include either a random sheet, or your choice of a single sheet.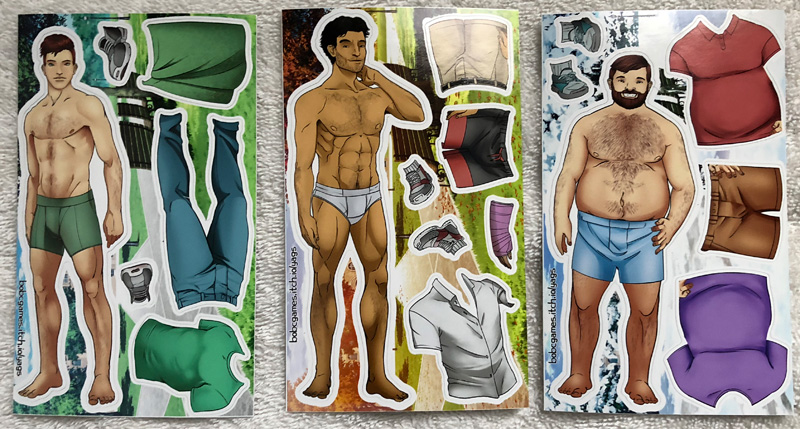 The Card and Character Stickers are a tri-fold 5"x7" New Year's card featuring the cast, and eight different stickers of the cast (James, Jake, Nikhil, Elliot, Nate, Hannah, Liz B., or Liz G.). Donation Rewards can include the card and/or three random stickers (of the eight).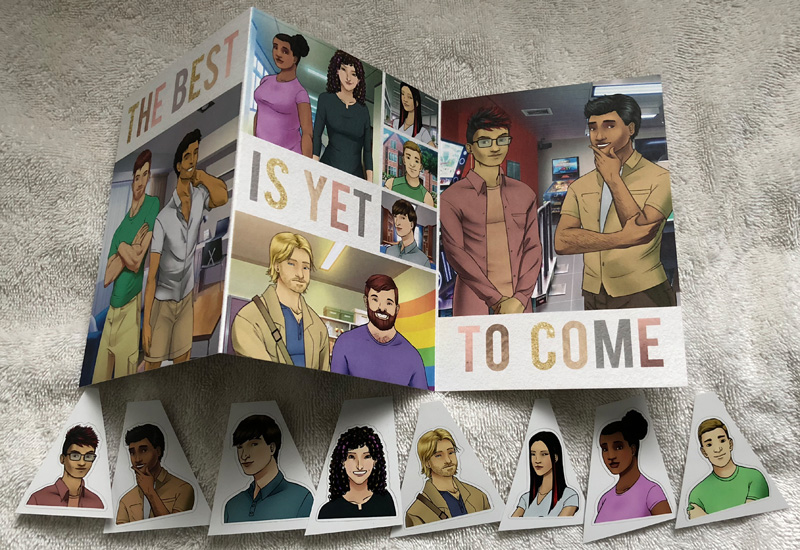 Signed Prints feature either Adam or Dan and are the most limited, and are each signed and numbered (out of 5) by the sprite artist David Stoll. This reward tier also includes an additional print of Adam from the Behind-The-Scenes book cover, signed and numbered (out of 10) by me (Bob Conway). Plus an exclusive matching sticker.
This will ship via USPS Priority Mail domestically, but for cost reasons, international shipping will not be trackable. As such, I recommend that donors outside the United States do not select this tier, as items lost in transit cannot and will not be replaced due to their limited nature.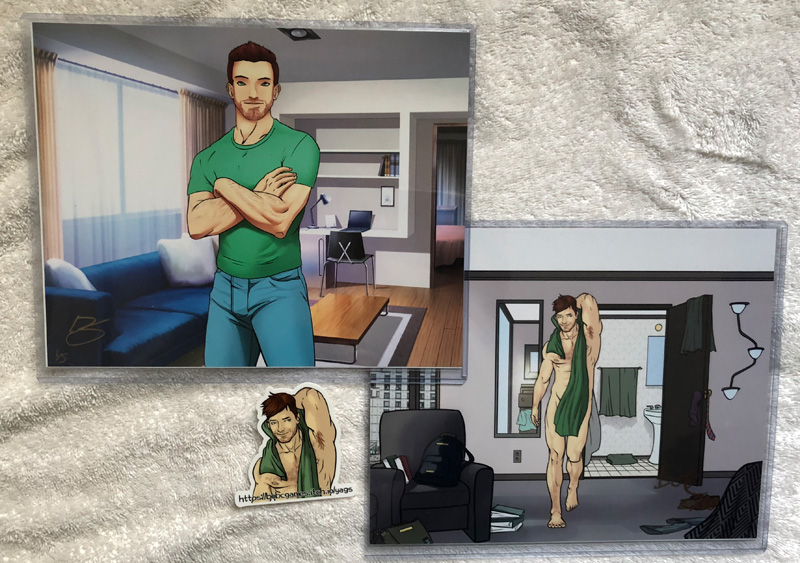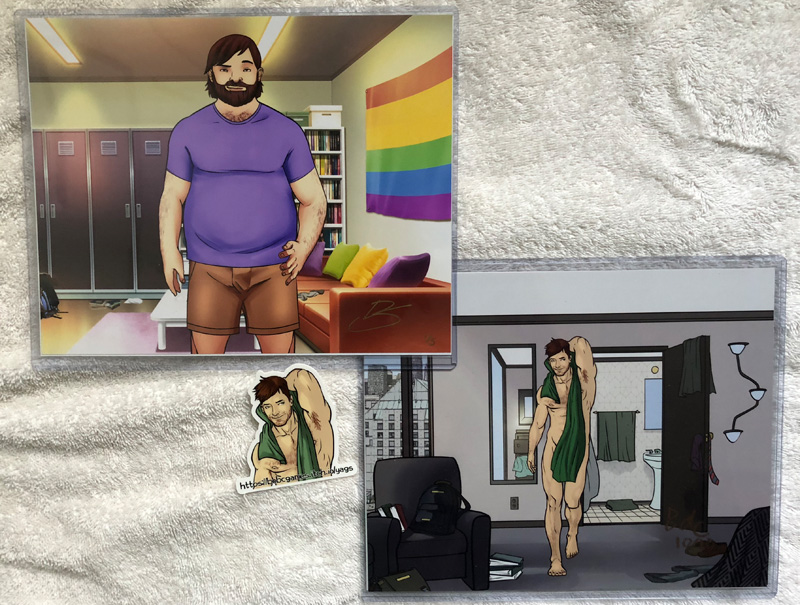 Files
YAGS-1.0119.0-win.zip
128 MB
Jan 19, 2019
YAGS-1.0119.0-mac.zip
127 MB
Jan 19, 2019
YAGS-1.0119.0-linux.tar.bz2
133 MB
Jan 19, 2019
YAGS-1.0119.0-android.apk
144 MB
Jan 17, 2019
Get Yearning: A Gay Story