Yearning: A Gay Story
Thank you!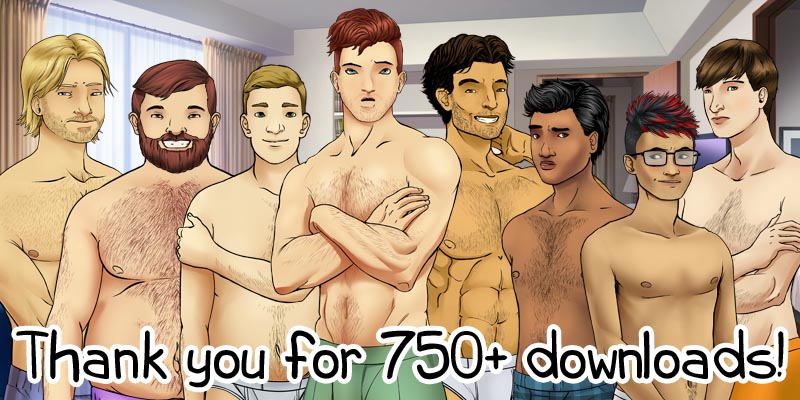 Thank you for 750+ downloads!
I have been blown away by the number of downloads over the past three (!) days; as well as the number of comments, tweets, retweets, messages, and emails I've received about the game. I read (and have read) them all, and appreciate every one of them.

Thank you to each and every one of you for making this game such a success for me.
Also particular thanks to those of you that have donated money. We're already starting on art for the sequel (ZAGS), and that money will go directly to my artist, so your donations are having a direct impact on the games I make.
Kaiju will be covering YAGS tomorrow (Wednesday 1/23 at 9 AM AEST, which I think is tonight, Tuesday 1/22 at 6 PM EST) as part of an LGBTQ+ games stream. If you're interested in watching, follow their Twitter (https://twitter.com/EnbyKaiju) or Twitch (https://www.twitch.tv/big_bad_kaiju) for more information.
---
And an update...
I released a new version of the game today (version 1.0122.0). It fixes a couple of minor bugs but, most importantly, it makes the fifth "secret" route of the game eligible for Easy Mode.
Probably the number one question I've gotten is about the fifth game route. You can discover the identity of the fifth guy either in the (free) companion fics or the (non-free) behind-the-scenes book. However, he remains elusively difficult to get.
This was originally an intentional decision on my part, due to the nature of his route, and Easy Mode therefore did not reduce the difficulty of his route. Thus, the only practical way to get him was to follow a walkthrough.
However, the sheer number of people asking about him means that I don't want to require each person to follow a walkthrough, because where's the fun in that?
Instead, if you download the new version and turn on Easy Mode from preferences for your game, you should be able to achieve his ending yourself. Some tips and tricks can be found here: https://lemmasoft.renai.us/forums/viewtopic.php?p=503598#p503598
(Remember that you will need to re-patch nudity with the new game build if you did so with the original build.)
---
As always, I'd love to hear from you. Please send me comments, criticism, or just general thoughts. You can reach me on Twitter at https://twitter.com/bobcgames, or via my website at http://bobcgames.com/.
Files
YAGS-1.0122.0-mac.zip
127 MB
Jan 22, 2019
YAGS-1.0122.0-win.zip
128 MB
Jan 22, 2019
YAGS-1.0122.0-linux.tar.bz2
133 MB
Jan 22, 2019
YAGS-1.0122.0-android.apk
144 MB
Jan 22, 2019
Get Yearning: A Gay Story