Zen: A Gay Sequel
April 2020 Update: Ongoing Update Format Details
---

Hi everyone, and thank you so much for your support and interest in ZAGS.
Since ZAGS is still in active development, my goal is to write an update post at the end of each month providing some progress information and general announcements. I'll try to keep them relatively spoiler free, and highlight general things before moving on to the nitty gritty progress details.
As always, feel free to message me anywhere (Twitter, Lemmasoft, a post in the ZAGS Community) with any questions or concerns!
Special Announcements
(Lack of) Route Continuance from YAGS

I've received a few questions about whether ZAGS will allow you to continue from one of the romances in YAGS. The answer is, unfortunately, no, mostly because it would cause the game to become too complex to write and code. However, the ZAGS prologue tries to set up the canonical YAGS story going into ZAGS.
But fear not, because I have plans to allow completion of YAGS routes to unlock certain extras in ZAGS, including potentially bonus YAGS epilogue scenes.
A New CG Artist Appears

David Stoll has done an amazing job with all the sprites (for both YAGS and ZAGS) and CGs (including all three in the demo). However, I've also brought on Wolfscade (who you may know from his own extensive body of work, or from our 2019 collaboration Charles 2.0) to help out due to the number of scenes.
Depending on his availability, we'll segment scenes either by route or in-game vs ending, to try and minimize style differences between the two artists across routes. But I'm generally extremely excited to have him on board. (Check out his Twitter for Charles 2.0 for other examples of his work.)
Dev Progress Update
All updates apply only to the (in-progress) full game release and not the demo.
Writing Status

The first pass of writing is complete up to the in-game day of February 9. The game is now at 63,880 words, 6085 dialogue blocks, and 135 menus.
CG Status

Two additional CGs (plus a "variant" constituting a third) are complete, one by David and one by Wolfscade. General status is 6/14 CGs complete. Here's a preview of part of a new ending CG (by Wolfscade).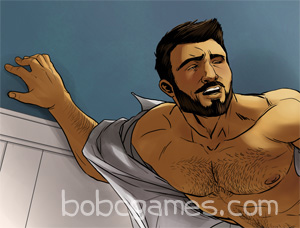 Other Progress

One additional minigame has been added (view a non-spoilery preview here).
Thanks to a suggestion by ParrotWatcher, the stats screen will be accessible during normal gameplay (after the planner is used for the first time) so you can min/max to your heart's content, if that's your thing.
The planner tutorial now calls out the preference for planner execution speed, and the preference itself has been expanded to better explain what it does.
The prologue now gives the option "I played YAGS, but on a different computer" if it does not detect YAGS game saves on PC.
"Some Censoring" vs "Full Censoring" have been changed to "No Genitalia" and "Censored" to better reflect what they do. Censored mode now also throws up a larger censor bar over sensitive parts of the CGs (in addition to excluding... fluids).