Zen: A Gay Sequel
May 2021 Update: Magnets!
---

Special Announcements
Magnets
There's new swag, and it's very limited: I have three sets of square magnets available. They're 2x2" each, and you get a set of 20 (featuring the entire base cast of ZAGS), plus a signed and numbered 4x6" print, plus a sticker pack.
Unfortunately, I'll only ship these domestically within the US, but if you're international and interested, send me an email at bobcgames (at) gmail.com and we can talk.
The magnets also come with a preorder of ZAGS, so if you've already preordered the game, please likewise email me for a discount on the magnets ($50 instead of $65).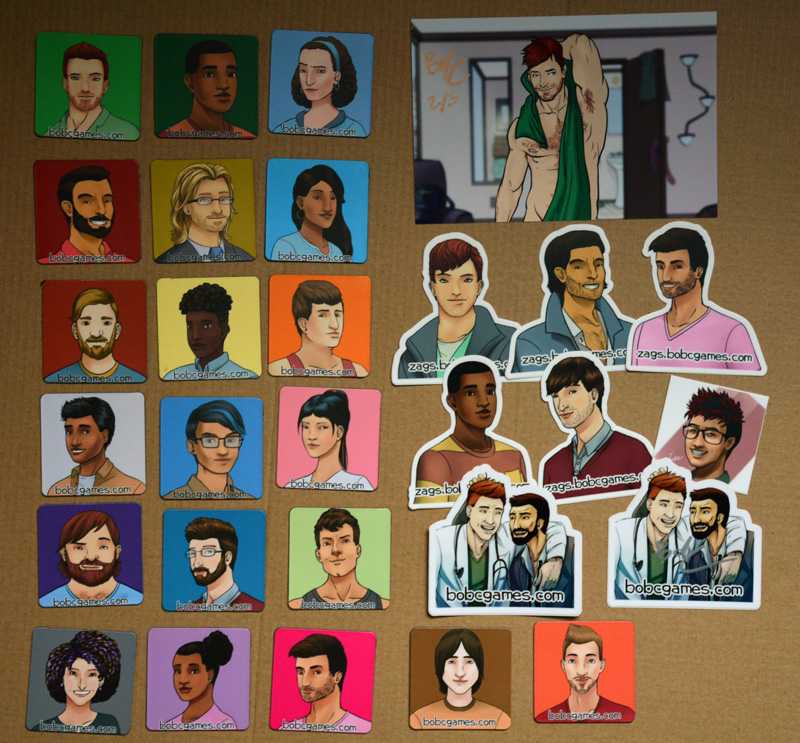 Dev Progress Update
All updates apply only to the (in-progress) full game release and not the demo.
Writing Status
The majority of the month was spent on dev process items (which don't count for these writing stats), but I also did lots of general text cleanup and fixing up of sex scenes to match the CGs.
The game is now at 239,050 words, 22,190 dialogue blocks, and 481 menus.
CG Status
I lied about being done with adding new CGs... there's one last very special CG added to the list for a round total of 20 CGs. But this is actually actually it for CGs.
David also had a productive CG month; he finished the two in-progress CGs and finished another CG and started another two CGs. So...
General status is 16/20 CGs complete, with 2/4 in progress.
Other Progress
Added a count for game unlocks, and a few more achievements including one for unlocking everything
Added basically all of the Dev Process Items (song lyrics, sprite/character info, CG WIPs, unlock guide, and more)
Added the last minigame (word scramble)
The save name is now overridable (for tagging saves for your own tracking)
Fixed more bugs, did more testing
June Goals (TODOs)
Additional testing and polish