Afterward: A Gay Series
Leaving Your Old Life Behind
---
AAGS is here!
The demo for the Kinetic Novel version of Afterward: A Gay Series (and preorders for the full game) are here!
If you're not already familiar with the YAGS universe, you may wish to start with YAGS (it's free!) or ZAGS (free demo available).
AAGS was an (unintentional, impromptu) NaNoWriMo 2021 project that kind of clicked in my brain and started becoming a thing. I'd also been wanting to work with Deevilj again for a while, and this seemed like a great opportunity.
The demo features three chapters: Start of Something New, detailing Carlos and Adam's first meeting and nascent friendship; The Story So Far, a KN summary of the relevant events in YAGS and ZAGS; and Falling Into Place, the start of AAGS proper. AAGS is a Kinetic Novel, which means it contains no player choice, but the demo does contain three CGs, a minigame (with a further two CG rewards), and a hidden secret.
The full game currently features 22 chapters, 8 shorter ficlets, evolving character profiles where you can play dressup, four total minigames, and a bunch of additional CGs and secrets. These numbers are subject to grow, and your preorder will help fund additional CGs.
If you preorder today, you'll not only save $2 off the full price of $9.99, but an additional $1 off in the first 24 hours! I will also be publishing devlog updates every month or so (similar to how I handled ZAGS), so if you're not comfortable preordering an unfinished game, you can watch this space (or Twitter) for updates.
---
Physical Goods
You may also want to use this opportunity to acquire some exclusive AAGS stickers and magnets! All physical goods come with a preorder of the game, and they're more limited than in the past (because I printed sticker sets of 10 instead of 50). The different goodies you can get are:
Die-cut vinyl stickers! The basic pack includes the two rectangular stickers, one group sticker, one Carlos sticker, and one sticker of either Adam or Nick. The signed pack includes all 8 designs. Both packs include a ZAGS sticker.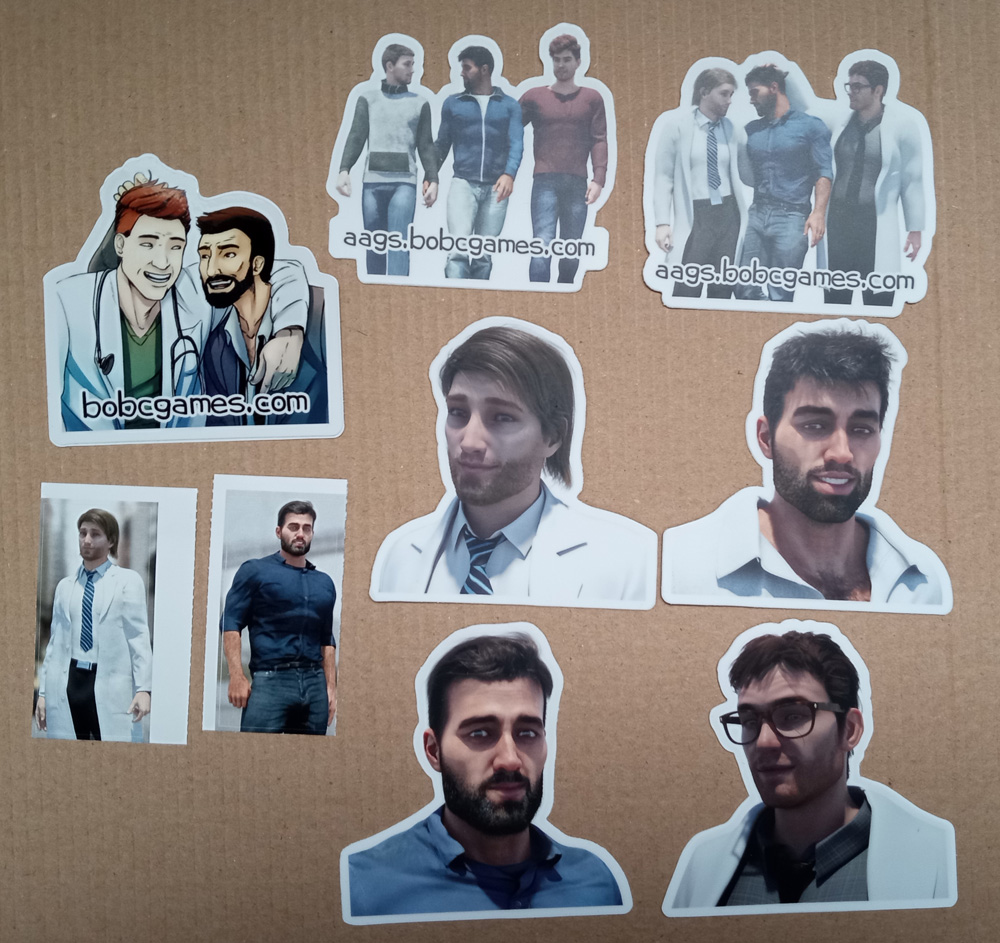 Magnets! The magnet pack comes with four square (2"x2") magnets, a Nick AAGS sticker, and a ZAGS sticker.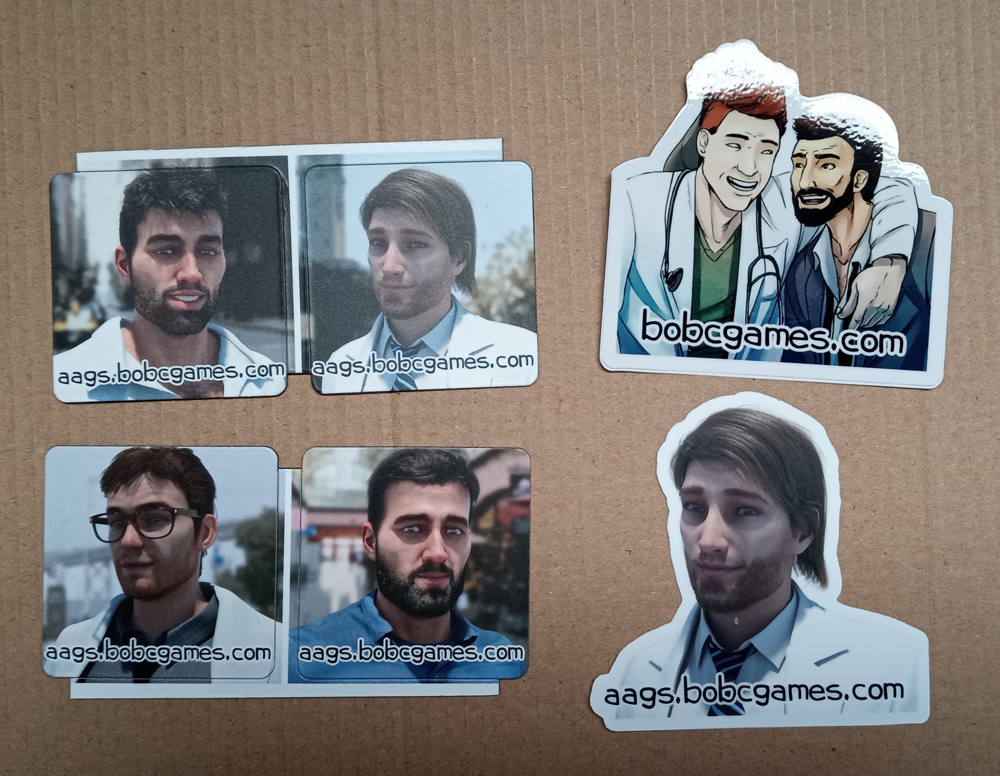 International shipping is fine for all items, but remember to fill in the post-payment survey so I know where to ship. (If you're having trouble with this, please email me at bobcgames (at) gmail.com .)
(For additional goodies, check out the ZAGS physical goods.)
Files
AAGSDemo-1.0.0410-mac.dmg
67 MB
Apr 08, 2022
AAGSDemo-1.0.0410-linux.tar.bz2
66 MB
Apr 10, 2022
AAGSDemo-1.0.0410-win.zip
71 MB
Apr 10, 2022
com.bobcgames.aagsdemo-release-1.apk
86 MB
Apr 10, 2022
Get Afterward: A Gay Series